Please note this site has financial relationships with American Express and this post may contain affiliate links. Read my Advertiser Disclosure policy here to learn more about my partners.
The limited time increase of the Marriott Rewards® Premier Credit Card has ended and while I have done a few different Marriott related posts recently that were inspired by the offer (like how to squeeze 12 award nights out of it!), I haven't actually sat down and thought about exactly where I would personally want to use the sign-up bonus points if we were to pull the trigger on the card right now.  To be transparent, I am not planning on getting the card myself right now, largely because of this, but it is still a very tempting offer that made for fun vacation daydreaming…
Winter Weekend at Vail Mountain Marriott Resort
Ski hotels with have easy access to the slopes are generally very expensive during the winter ski season.  It is a simple supply and demand situation that results in $500+/night rooms at the top end resorts that are on the base of the popular ski mountains like Vail.  For points lovers, this means that ski season is often the perfect time to use hotel points to stay at properties that otherwise would be outside most of our budgets.
The Vail Mountain Marriott Resort is 150 yards from the Eagle Bahn Gondola at Vail, has a ski valet (super helpful for skiing families), and looks like a nice upscale lodge themed property.  This property is a Category 9 Marriott property and goes for 45,000 points per night, so a two night winter weekend would run us 90,000 points for a room with either a king bed or two doubles rated for a family of four.  The cash price for a two-night weekend stay in January can easily clear $1,000, so this is a great use of points if you like to ski.
Relax at Powerscourt Hotel, Autograph Collection, in Ireland
I absolutely loved the Powerscourt Gardens when we went to Ireland, and I think staying in the Powerscourt Hotel would be so beautiful and relaxing.  This is an absolutely breathtaking part of Ireland just 30 minutes outside of Dublin, and I highly recommend a visit to the area even if you don't stay at the hotel.
However, if you want the full experience you can stay here for 35,000 Marriott points per night as a Category 7 property.  Rates seem to often be in the 200 – 250 EUR/night range if paying with cash.
Family Vacation at Atlantis in the Bahamas
Many families want to take their kids to the Bahamas, but the price tag can cause some sticker shock – especially during peak seasons.  When we went to Atlantis, we stayed at the neighboring Comfort Suites, but if you want to stay on Atlantis property then using Marriott points can be a good alternative to paying hundreds of dollars per night.  There are four different property types in Atlantis that range from 35,000 – 45,000 points per night as Category 7 (Beach and Coral Towers), Category 8 (Royal Towers), to Category 9 (The Cove) properties.
When you stay at Atlantis you have access to the water park, pools, etc. included at no additional cost, so you can think of using points here as not just covering your lodging, but also a bulk of your entertainment costs as well.
Stay in London with Room for Four + Lounge Access:
If you have ever tried to use points for a family of four in London you know that is a tall order.  Rooms are small, occupancy rules are strict, and getting a standard room rated for three in a prime area is a stretch – a room for four is virtually non-existent at most places outside of paying for a pricey suite or similar.
However, at the London Marriott Hotel Marble Arch there are deluxe two double bed rooms available for the Category 9 points rate + a 60 – 95 GBP per night surcharge depending on whether you want executive club access with the room or not.
Obviously that means this property doesn't have standard rooms for four available on points either, but I consider that surcharge price to be reasonable in order to keep a family of four all in one room and have perks in the executive lounge like continental breakfast, midday snacks, evening canapes, and complimentary beer/wine in the evening all included for four people.
This may not be the swankiest Marriott in London, but given rooms for four and the location near Hyde Park, Buckingham Palace, etc. it may be the best options for families of four like mine.
Stay on a Private Island in the British Virgin Islands:
If you want to spend your Marriott points to be on a private island with amazing blue water then you have to consider Scrub Island Resort Spa and Marina, an Autograph Collection Marriott.  This hotel has 52 total rooms and is on an island with no private cars with access requiring a ferry transfer!  All the rooms have their own patio or balcony with marina and ocean views.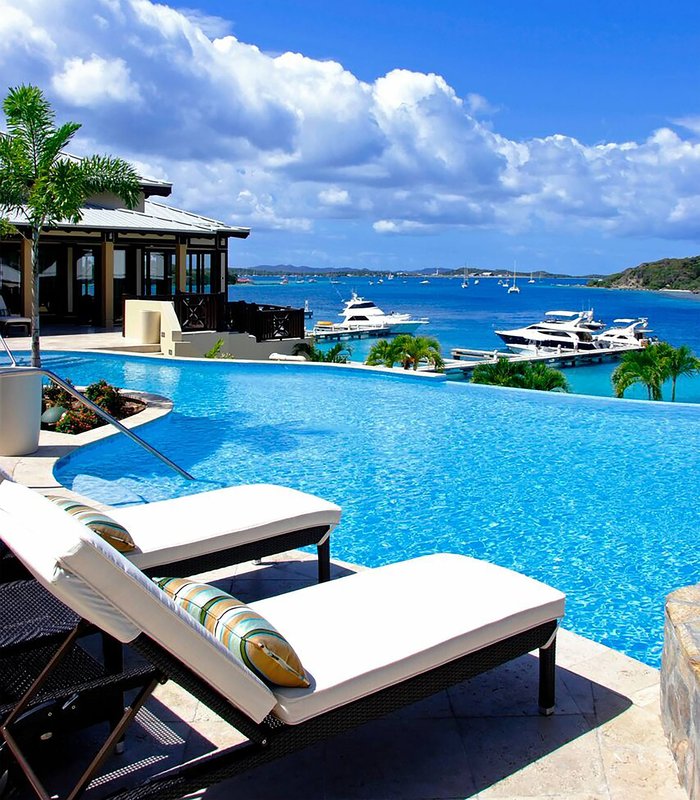 It is a Category 9 property that goes for 45,000 points for a room with a king bed.  Cash prices often range from $350 – $700 a night depending on the season, so it can be a tremendous value on points.  If you need one of their suites with multiple bedrooms for a family stay expect a cash upgrade price and/or a higher points price per night.
Those certainly aren't the only five Marriott properties I would want to visit using points from the Marriott Rewards® Premier Credit Card , but it is a strong wish list to start with!  Remember if you have a spouse or domestic partner and want to both get in on this offer and combine points for a specific award, you can do that in the Marriott program for no additional fee at the time of redemption.
Which Marriott properties are on your "wish list"?
Editorial Note: The opinions expressed here are mine and not provided, reviewed, by any bank, card issuer, or other company unless otherwise stated.