Please note this site has financial relationships with American Express and this post may contain affiliate links. Read my Advertiser Disclosure policy here to learn more about my partners.
I feel like a broken record continuing to shout from the roof tops (or type from my keyboard) about the deals coming out from Frontier Airlines, but they just keep getting better.  Thank low fuel prices, off-season travel, low cost mentality, etc. but these deals are fan-tas-tic. 
Domestic Flights From $15 All-In:
First, they are running their $15 one-way fares again on very select dates in the first two weeks of October from lots of cities including (but not at all limited to):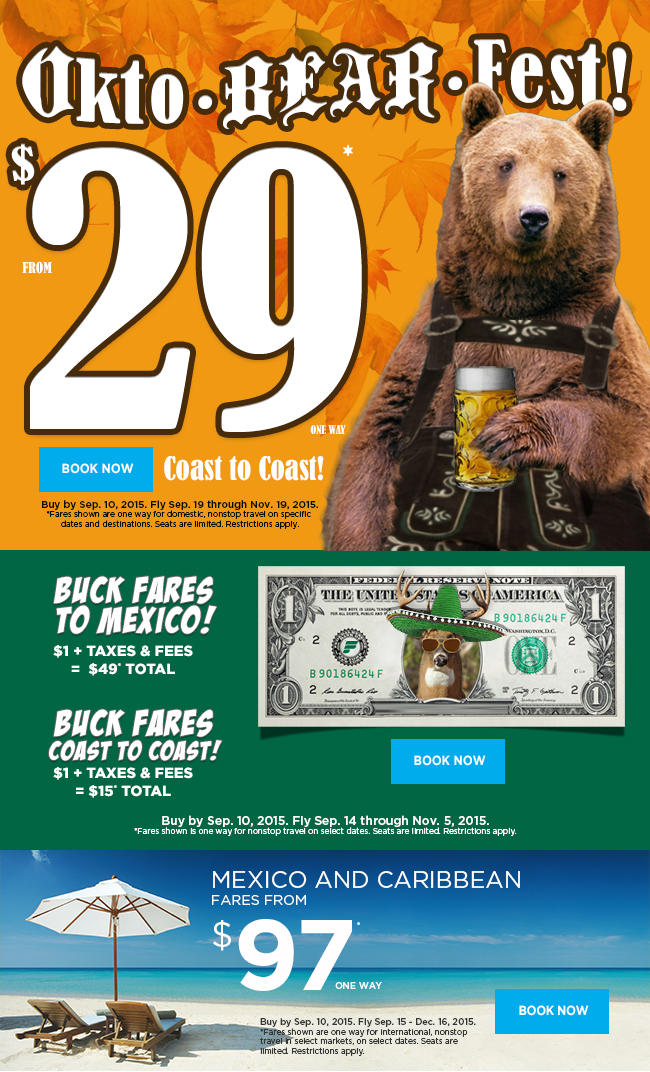 Houston – San Francisco $15
Houston – Philadelphia $15
Austin – Chicago $15
Austin – Las Vegas $15
Seattle – Denver $15
New York – Miami $15
Washington Dulles – Orlando $15
Atlanta – Las Vegas $15
San Francisco – Chicago $15
Los Angeles – Denver $15
New Orleans – Atlanta $15
Mexico and Caribbean From $1 + Taxes/Fees:
But, because domestic travel for $15 all-in each way just wasn't awesome enough, now there is travel to Mexico and the Caribbean from $1 + taxes/fees.  With taxes and fees these flights seem to start at around $40 one-way on the lowest priced dates!  The available dates for these flights are slightly more varied that then $15 domestic flights.
Puerto Vallarta – Denver
Punta Cana – Philidelphia
Punta Cana – Chicago
Montego Bay – Philadelphia
Cancun – Denver
Cancun – Philadelphia
Cancun – St. Louis
Cancun – Cleveland
As always, you can have the best of both worlds with these great sales by using fixed value points from certain cards to take advantage of the low airfare prices while still traveling on points (just make sure you are meeting the minimum point redemption threshold for your card type).
Please tell me someone got in on one of these deals!
Editorial Note: The opinions expressed here are mine and not provided, reviewed, by any bank, card issuer, or other company unless otherwise stated.