Please note this site has financial relationships with American Express and this post may contain affiliate links. Read my Advertiser Disclosure policy here to learn more about my partners.
In our household it seems that at least one iPhone needs replacing every time there is a new phone released…which then often leads to phone upgrade musical chairs where someone is getting a new phone, someone is getting someone else's old phone, etc.
Since we have yet another phone clinging to life support for a while holding out for the new models, we were online this morning pre-ordering the new iPhone 6s and we had to decide what credit card to utilize in order to make the most of the purchase.  Since I bet some of you will be getting a new phone, too, I'll share what we did to not only earn extra points but also protect ourselves in the process.
Since our new phones from AT&T have always billed as an AT&T charge when we order from that website, it has always counted for 5x points.  Considering that the mid-range new iPhone 6s with a two-year contract bills at about $350 all-in, that is 1,750 points.  Obviously if you are buying pricier models or are paying the full non-contract price that amount of points earned will go even higher.  Buying the phone via other carriers or sites may also not result in 5x earning depending on how it bills.
Make Sure You Have Extended Warranty Protection via Your Credit Card:  With this coverage we get an extra year on the manufacturer's one year warranty and are protected against damage or theft for the first 120 days.  We have used the manufacture's warranty extension on an iPhone that stopped working in the past and we were sent a check to cover the replacement of the phone (up to the original purchase price of the phone charged on the card) when we were able to demonstrate that the phone was not able to be repaired and it was a defect that would have been covered by the manufacturer's original warranty.
That saved us close to $300 and I will forever be sure to make this sort of purchase on a card that gives me some extra protection and peace of mind. You can read all about this process and how we made the claim here.  I'm also glad that we will have 120 days of protection in case we break the phone or have it stolen.  I know several people that have had their iPhone screens repaired via this protection coverage!
You will find that many of the premium credit card products that are common in the miles and points arena have these very nice built-in perks!
Get $650 Towards a New Phone with New Citi Credit Card: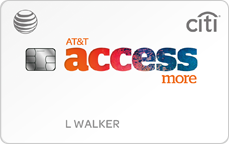 One other credit card that is worth a specific mention while we are on the topic of new phones is the AT&T Access More Card from Citi (not an affiliate link – just worth a mention!).  This credit card gives you $650 towards a new contract-free AT&T phone as a sign-up bonus after you spend $2,000 on purchases in the first three months.  This phone also provides 3x points at online at retail and travel website as well as on AT&T charges.
I don't personally have this card, but if you planned to spend $650 on a contract-free phone, this may be a card worth considering to keep that money in you pocket.
This card will also provide extended warranty and damage/theft protections, so you are covered in this case, too!
Which credit card do you use when it is time to upgrade a phone in your household?
Editorial Note: The opinions expressed here are mine and not provided, reviewed, by any bank, card issuer, or other company unless otherwise stated.